Detailed introduction
◆ Used for disassembly, assembly, cleaning and measurement of rolling mill bearings.
◆ Originally operated by hand, it has been changed to semi-mechanized. The number of one work shift has been reduced from 30 to 8 people. The effect of "1 liter and 2 drop" is remarkable: work efficiency is greatly improved, labor intensity and production cost are greatly reduced.
◆ National invention patents.
◆ YZ130 has been serialized.
◆ Can be equipped with washing machine and measuring machine.
◆ The production line can be built into the set as shown below.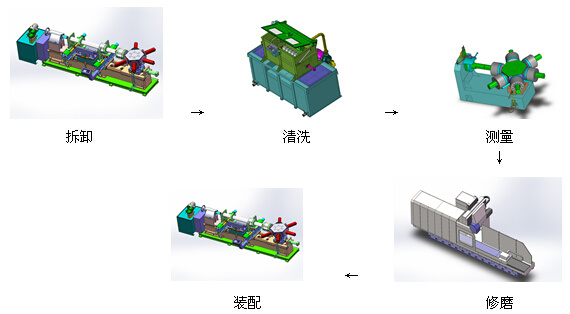 Project

Specifications

YZ130

YZ130A

YZ130B

Roller shaft length (mm)

1500

1800

1800

Roller bearing diameter (mm)

300

300

408

Roller bearing inner diameter (mm)

130

130

180

Rotary shaft taper

Mohs 5

Mohs 5

Mohs 5

Rotary shaft diameter

130

130

180

Tailstock sleeve taper

Mohs 5

Mohs 5

Mohs 5

Tailstock sleeve diameter

90

90

90

Tailstock sleeve stroke (mm)

235

235

235

Self-centering jaw stroke (mm)

400

400

500

Six-party rotary table travel (mm)

120

120

120

V-type auxiliary positioning lifting platform

Stroke (mm)

130

130

130

Hydraulic motor power (kW)

3

3

3

Disassembly and assembly machine dimensions (l × w × h) (cm)

450×180×220

450×180×220

550×180×220

Disassembly machine quality (kg)

5000

5000

6000
1
Get product quotation for free