CNC belt grinding machine 2MK5950/H
Product details
◆ This machine belongs to the category of surface finishing, which is used to improve the surface roughness of the workpiece. The shape accuracy is guaranteed by the milling of the previous process.
◆ It belongs to flexible grinding. Because of the control of the servo pressure shaft, the contact wheel drives the belt to continuously adjust the grinding force to make it constant, also known as constant force grinding.
◆ "6+1" axis control technology: 6 axes (X\Y\Z, A\B\C) linkage +1 servo pressure axes.
◆ Typical machining parts: steam turbine blades, see the figure below.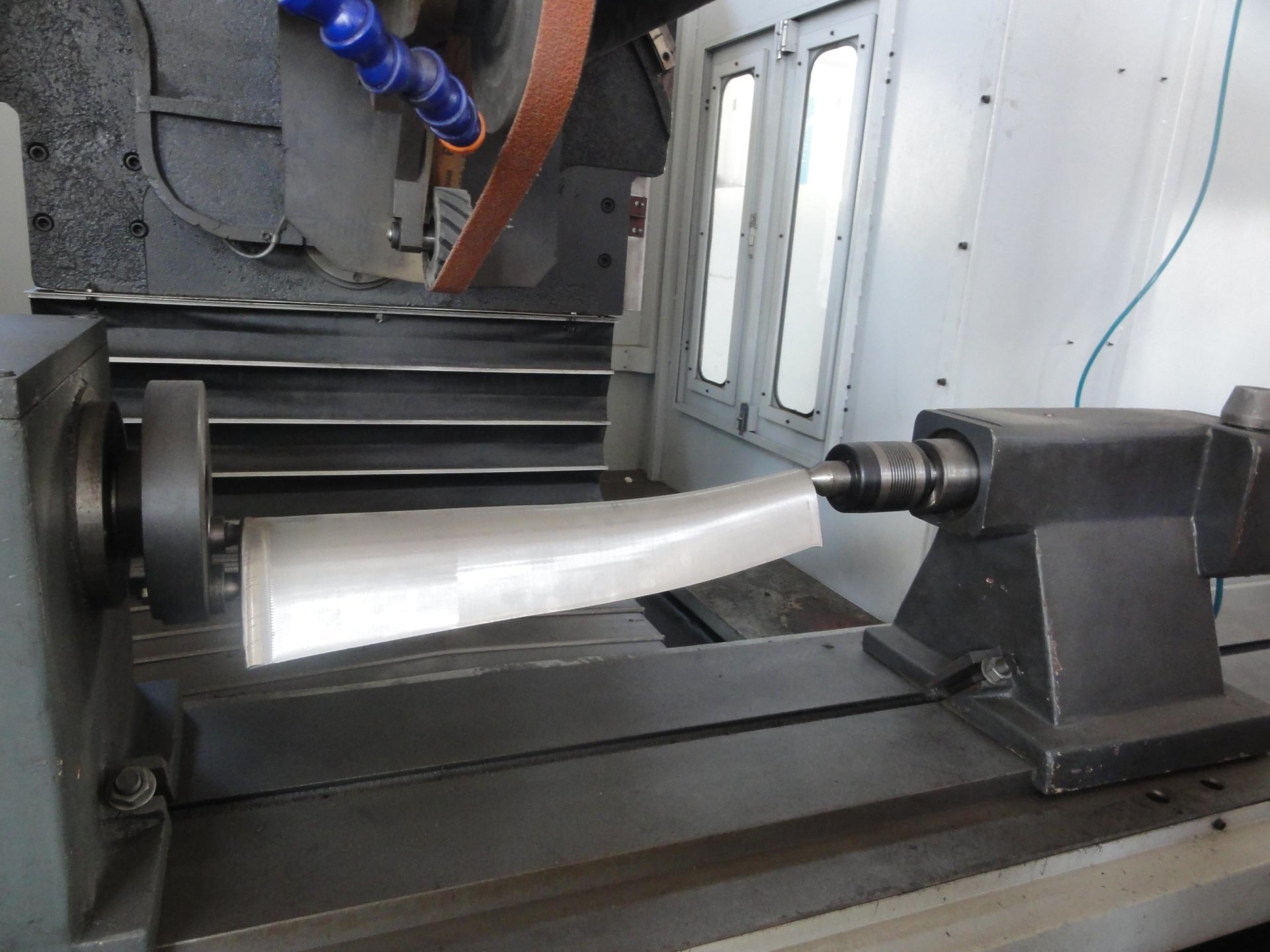 At present, most of the blade polishing is hand-polished, which is labor intensive and difficult to guarantee. As the size of the workpiece is getting larger and larger, the manpower is no longer competent. The domestic key blade manufacturers purchase imported equipment for processing, the equipment is expensive, the cost is high, the technology is complicated, especially the programming requirements are high, and the foreign technical services are often not guaranteed. Therefore, the price/performance advantage is self-evident and can completely replace imports.
Project

Parameter

Workbench

Size (width × length), mm

460×2870

Maximum load, kg

300

Structural parameters

Headstock - tailstock center height, mm

260

Contact wheel center to work surface distance, mm

0~660

AAxle taper taper

Mohs4#

BAxle taper taper

Mohs3#

CAxle taper taper

Mohs3#

Processing blade range

The maximum length,mm

1850

Maximum width,mm

500

Maximum weight,kg

150

Motion axis travel

XTo (left and right),mm

1920

YToward (before and after),mm

500

ZTo (up and down),mm

400

AShaft rotation,°

360

BShaft swing,°

±45

CShaft swing,°

±80

Grinding head

Belt length,mm

3500

Belt width,mm

10~50

Abrasive belt maximum line speed, m/s

30

Contact wheel diameter,mm

Ф40~300

Contact wheel width,mm

10~50

Grinding head motor power,kW

3

Motion axis accuracy

Positioning accuracy of linear motion axes(X/Y/Z),mm

0.042/0.025/0.022

Repeated positioning accuracy of linear motion axes(X/Y/Z),mm

0.020/0.015/0.012

Positioning accuracy of the rotary motion axis(A/B/C),〃

28/28/28

Repeated positioning accuracy of the rotary motion axis(A/B/C),〃

16/16/16

Motion axis speed

X、Y、ZAxis fast moving speed,m/min

20

AAxis fast speed,r/min

65

BAxis fast speed,r/min

12

CAxis fast speed,r/min

20

Pressure shaft

Response accuracy,%

±10

Response pressure,N

50~200

Response time,s

0.1

Pressure shaft stroke,mm

50

Power and air supply

power supply

380V,50Hz

Machine input power, kW

20

Air source pressure, MPa

0.5~0.7

other

Grinding machine dimensions (length × width × height), cm

552×287×270

Grinding net weight, kg

7800
1
Get product quotation for free